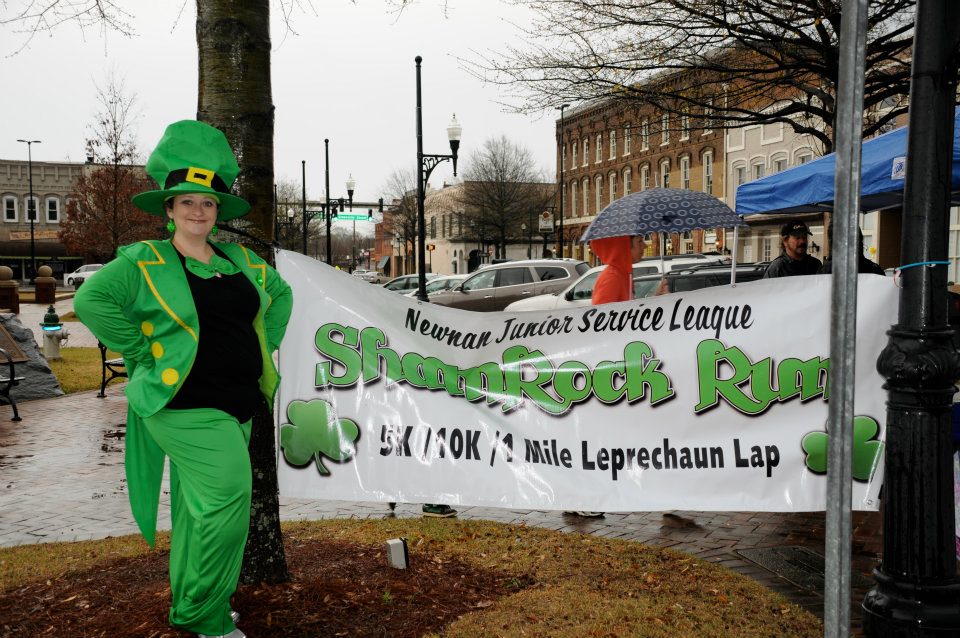 12th Annual ShamRock Run
Date: March 17, 2018
Time: 8:00 am
Location: Newnan Court Square
Like us on Facebook!
2018 ShamRock Run Registration Form
The ShamRock Run is a great family event!  Both our 5k and 10k race routes are USATF certified courses.  The 10k course is for competitive runners, while the 5k and Leprechaun Dash are fun for the whole family.  The Leprechaun Dash will be 2 laps around the Courthouse Square.  Walking, dogs, and strollers are welcome for the 5k or Leprechaun Dash.  We will use Orion Racing to professionally manage the finish line and use RFID chip.
The 11th Annual ShamRock Run is a fundraiser for the following charity:  Newnan-Coweta Angel's House.  Angel's House provides a safe, nurturing home for teen girls in crisis; this care is for children in state custody.  Some are removed from their homes and placed in DFCS custody because of abuse, neglect or risky behaviors.
Awards will be presented to the top 3 male and female finishers in each of the 15 age groups, as well as the top overall male and female finishers in our 5k and 10k.  Awards will be announced once a winner has crossed the line in each category.  All finishers of the Leprechaun Dash will receive a finisher's medal.  ALL 10k finishers will also receive a commemorative medal.
Costume Contest:  Awards will be given for Most Creative Green Costume Adult and Most Creative Green Costume Child (under 12.)
Results will be posted on Active.com and orionsportstiming.com.  These times may be printed and used on the Peachtree Road Race Application.  (Check www.atlantatrackclub.org for more details.)
---
Another successful run is in the books!  Thank you to everyone who came out for our 11th Annual ShamRock Run on March 18, 2017!  The rain put a little damper on things, but it was a wonderful event!  Thank you to all our runners, our wonderful volunteers, and, of course, our sponsors!  Race results are posted below.  Thank you everyone!
Thank you to our 2017 Sponsors!!!
We could not do this without you!
Friends of the League:
Mike & Julia Barber, Jenny Bryant, Jeff & Judy Heard, Allan & Magen Gamble, Wes & Emily Gates, Ben & Anna Johnson, Knox Furniture and Panoply, Lana Mobley-Rodan & Fields, Lion's Den, Jay & Amy Mottola, Brennan & Angela Munson, Adam & Kristi Mundt, Bennett & Lauren Smith, The Bear 92.5