Since 1977, the Newnan Junior Service League has published three cookbooks. Our Award- Winning A Taste of Georgia, A Taste of Georgia: Another Serving, and Simply Southern.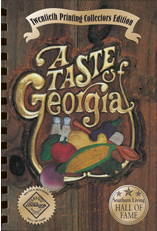 A Taste of Georgia Cookbook (1977) – $19.95
A Taste of Georgia is an exceptional collection of Southern Favorites compiled by the members of the Newnan Junior Service League. This book offers carefully tested, superior-rated recipes from the best Southern kitchens. In addition, valuable culinary hints, short-cuts and great ideas make quick meals even more spectacular. With over 250,000 copies in print, A Taste of Georgia has been recognized by the Walter S. McIlhenny Tabasco Hall of Fame and is a Southern Living Hall of Fame Member.
Cookbook Reviews:
"In an era of lightly specialized and single-subject cookbooks, A Taste of Georgia is invaluable for its breadth. Where else can you find recipes for sweet potato biscuits and Swedish limpa bread in one book, not to mention six different recipes for squash casserole? A wonderful taste of Georgia cooking and culture." -Reagan Walker, food writer, The Atlanta Journal Constitution
"Great gift for Brides. Everybody needs one." Cile Smith, Restauranteur and owner, The Redneck Gourmet
---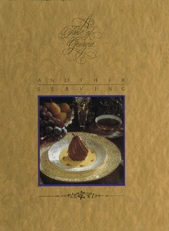 A Taste of Georgia – Another Serving Cookbook (1994) – $14.95
The follow-up to our award-winning A Taste of Georgia, Another Serving offers more of those treasured Southern Favorites. We have added an excellent children's section and easy reference pages for low-fat, microwave, and grilling recipes. Also included are the secrets behind some of the area's favorite restaurant cuisine!
Customer Review: "I already had the original A Taste of Georgia cookbook and love it. So I was delighted when I discovered that the same organization had published Another Serving. This cookbook has it all, grill hints, low fat recipes, children's section, etc. I especially like the Georgia Caviar on page 40 (so good I know the page number by heart) and the English Toffee recipe in the candy section. Also a favorite is the excepts from old "manners" books…always a good laugh. This cookbook has been a great addition to my kitchen." – Beth Brown
---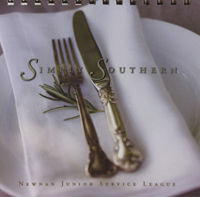 Simply Southern Cookbook (2008) – $ 11.95 – SALE: $2.00
Our most recent addition, Simply Southern is a collection of down home favorites with an international flair. Whether you are looking for elegant ideas for a bridal tea, something hearty for a tailgate, or recipes from some of our favorite local restaurants you will find all of these in this special little book.
---
Cookbook Bundle – SPECIAL: $25.00
All three of the Newnan Junior Service League's fabulous cookbooks!
---
Proceeds from our cookbook sales support our College Scholarship Program.
*ALL COOKBOOK ORDERS WILL BE SHIPPED ON MONDAYS.*
**International Orders – Please Email Us**
Questions???
Mailing Address:
P.O. Box 1433
Newnan, GA 30264